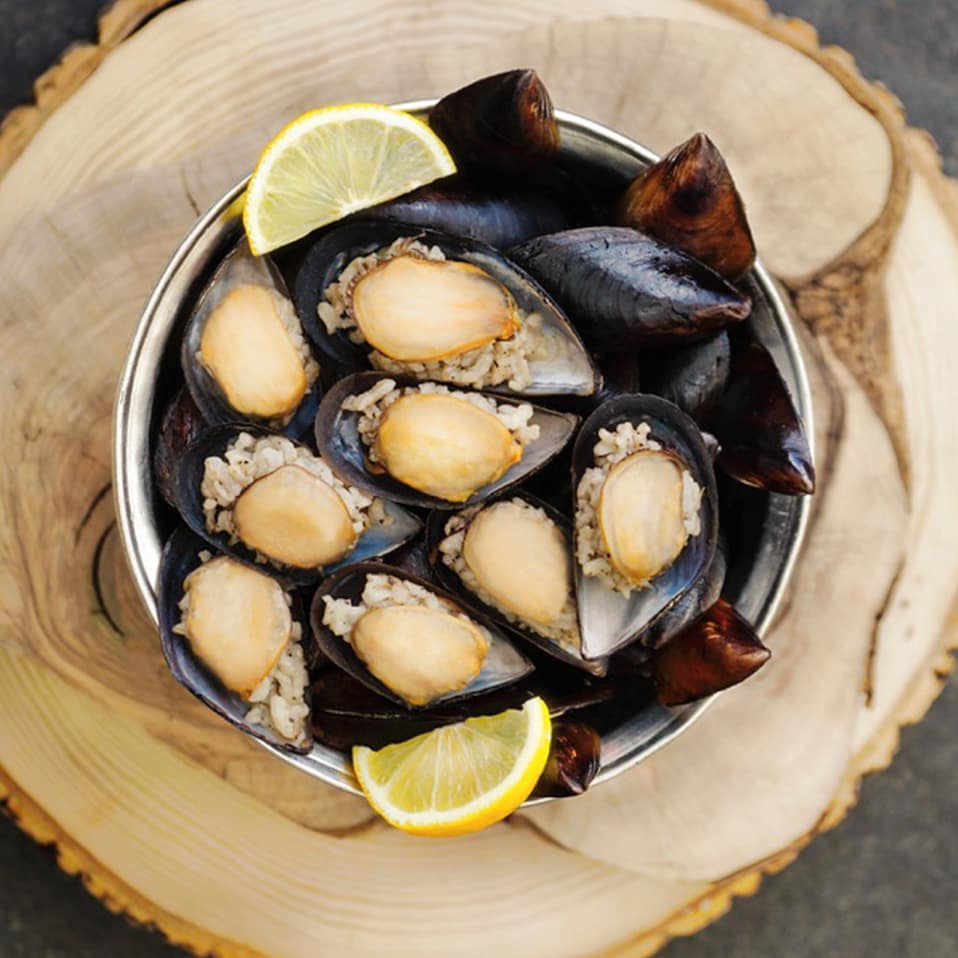 Stuffed Mussels Recipe
buy stuffed mussels london

,

buy stuffed mussels uk

,

midye dolma

,

midye dolma london

,

midye dolma londra

,

midye dolma nedir

,

midyeci uk

,

stuffed mussels london

,

stuffed mussels reciepe

,

turkish stuffed mussels

,

turkish stuffed mussels with rice

,

what is stuffed mussels

Jun 26, 2019
Stuffed mussels are a dish of Turkish origin and are mostly prepared only in Turkey. Stuffed mussels recipe is only known to some authentic Turkish families in this day, and age and unfortunately, it is not a common food item in Turkey or any part of the world.    
Stuffed mussels are a rainy day or cold weather treat many yearn for. Mussels are not common seafood around the globe. However, they are packed with flavour and minerals. Stuffed mussels are a healthy food choice since mussels are high in protein and low in fat. Mussels also contain high amounts of iron. These health benefits make mussels improve circulatory health and energy levels if included in the diet. Mussels are also known to help in improving brain functions and reduce inflammatory conditions such as arthritis.   
Apart from the health benefits of mussels, the stuffed mussels recipe calls only for natural and healthy ingredients such as fresh parsley, crushed garlic cloves, olive oil, and white wine. Many recipes call for different filling types such as prosciutto, rice etc. These ingredients make the stuffed mussels a healthy and tasty dish one could devour on.   
At Midyeci UK, situated in London, we are specialized in making the stuffed mussels recipe and are looking at making it available to as many people as possible. Many Turks in London testifies that they find the Midyeci UK a blessing when they are craving for an authentic Turkish dining experience. Midyeci UK is an online food delivery company, and we deliver cooked food to your doorstep. We, at Midyeci UK, are unbending in ensuring that only the best quality mussels are used to prepare our famous stuffed mussels. All mussels used in our stuffed mussels recipe are imported from certified farms in Scotland.   
At Midyeci UK, we still traditionally make stuffed mussels as made in Istanbul. This traditional method of cooking mussels is what has made Midyeci UK popular within a short span of time. We also supply live mussels only after completing quality inspection to ensure product quality. Apart from stuffed mussels, Midyeci UK is also known for our preparations of Midye Dolma, Deniz Ürünleri, and other Seafood dishes.    We, at Midyeci UK, could not have made placing an order much easier. All you would need to do when you crave for authentic Turkish food is contact us through any of the means mentioned below, and we will get in touch with you as soon as we can:
1.Call us at - +44 7400 734583
2.Message us on our Facebook page - m.me/MidyeDolmaLondon
3.Email us at - info@midyeci.co.uk
4.Order online through our website - https://midyeci.co.uk/collections/all
5.You may visit our website at - http://www.midyeci.co.uk
We, at Midyeci UK, hope that we are able to bring the stuffed mussels recipe to the popularity it deserves by continuing to serve the dish with the same, if not improved quality. We believe that continuing to what we do will urge more and more people to try the dish and discover a dish that must have been a staple a long time ago.
Previous Page
Previous Page